Sunday Morning worship is at 10:00 a.m.
All are welcome here!
*  *  *  *  *  *  *  *  *  *  *  *  *  *  *  *  *
Blessing of the Pets Sunday – October 1, 2:00 p.m.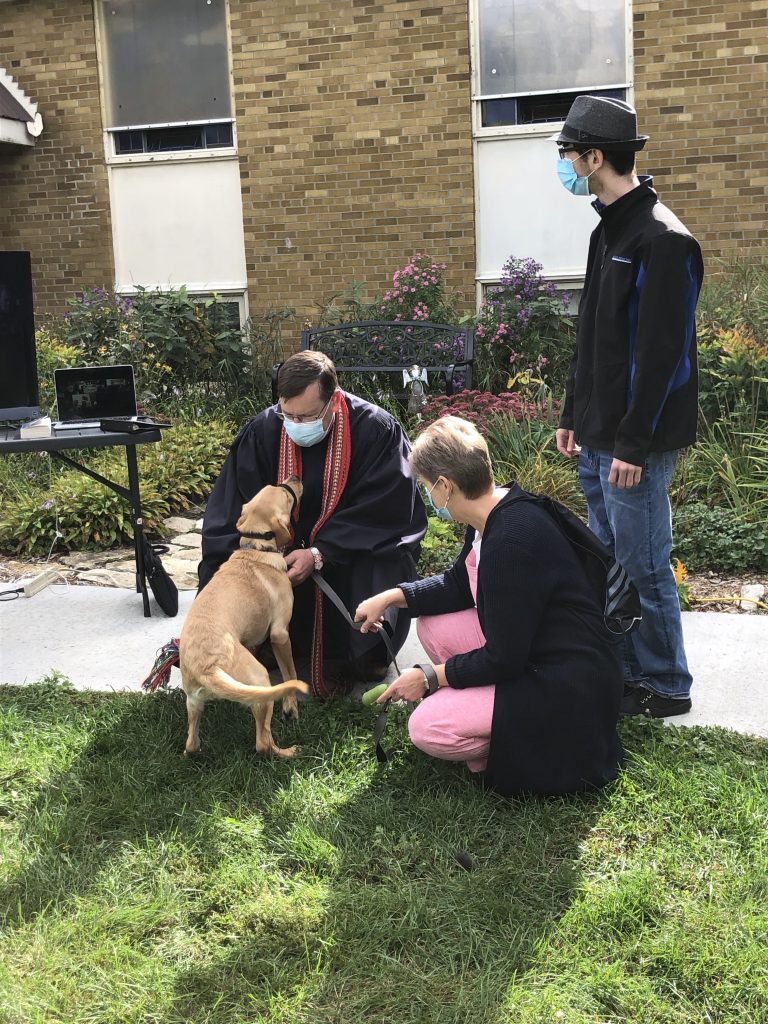 On October 1 at 2:00 p.m. (weather permitting) on the church lawn we will be celebrating our St. Francis of Assisi blessing of the pets service. All are welcome for this brief service of a song, a brief prayer and blessing of your pets. You are welcome to bring your pet on leash or in a crate which every way they are most comfortable. If your pet does not play well with others then you can bring a photo of them and still come for a blessing!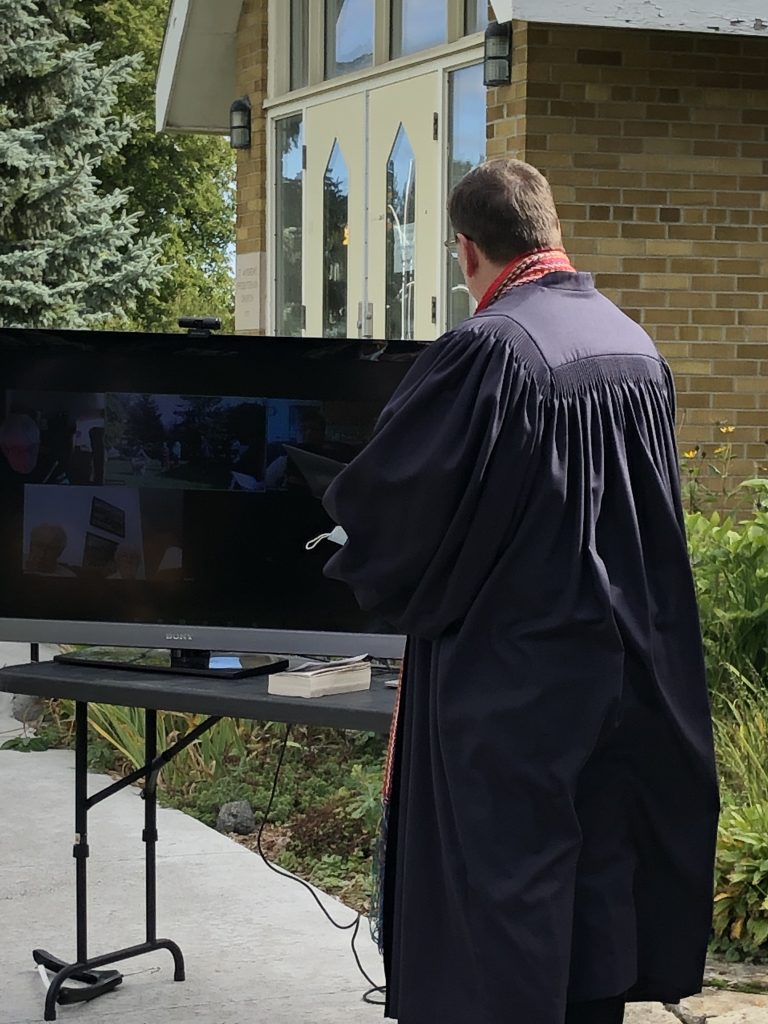 As you can see from these pictures, the last blessing of the pets was during COVID and some had to join us for a blessing via Zoom.
Here is a little more information about St. Francis of Assisi.
St. Francis was born in Italy around 1181 or 1182. After a wild youth and a brief career as a soldier, Francis had a conversion experience that inspired him to renounce his family's wealth and devote his life to God. His dedication to poverty, humility, obedience, patience, and compassion soon attracted followers. Francis' deep love of God overflowed into love for all God's creatures—expressed not only in his tender care of lepers and his attempt to negotiate peace between Muslims and Christians during the fifth Crusade, but also in his prayers of thanksgiving for creation, his sermons preached to animals, and his insistence that all creatures are brothers, sisters and siblings under God.  St. Francis of Assisi became the patron saint of animals & the environment.
*  *  *  *  *  *  *  *  *  *  *  *  *  *  *  *  *
Child & Youth Church Services
We know that it can be difficult for children and young people to sit through a service that can be over an hour long and not necessarily geared to young children. We believe that children are an important part of our church family, and we are happy to change what we do to be more accessible to children and young families. For that reason on the third Sunday of each month we have special Sunday morning worship services. The services are specifically geared to young children who have a need to move and can not necessarily sit quietly. The worship services are at the regular time at 10:00 a.m. but they are only about 1/2 hour long with songs, music and a message geared to children and young people. There are also sweet treats for everyone after the service.
As always, all are welcome!
Our next Child and Youth Service will be on October 15!
*  *  *  *  *  *  *  *  *  *  *  *  *  *  *  *  *
Our Worship Services
Please find all our services on our YouTube Channel.