Come and join us any time!
Sunday morning worship 10:00 a.m.
Sunday School and Nursery are provided.
All are Welcome!
St. Andrew's Presbyterian Church
Stittsville, Ontario.
*  *  *  *  *  *  *  *  *  *  *  *  *  *  *  *  *
 We are very pleased to be hosting a special evening about Women's Heart health with the Heart Institute February 26th.
*  *  *  *  *  *  *  *  *  *  *  *  *  *  *  *  *
We are very pleased to be hosting a special workshop for any churches that are interested in being "Online Savvy".
We will also be providing a lunch for a nominal fee of $5.00.
*  *  *  *  *  *  *  *  *  *  *  *  *  *  *  *  *
Holy Week & Easter at St. Andrew's
 Palm Sunday – Sunday March 25th
We will all be involved in the service with a procession of palms as we remember Jesus triumphal entry into Jerusalem, and as we begin Holy Week. The Service will be followed by a pancake Lunch at our church!
Holy Week – Monday to Friday 8:30 – 9:00 a.m.
Sanctuary open for quiet prayer and reflection.
Wednesday March 28th,
9:30 – 10:30 a.m. – Bible Study
Wednesday March 28th, 7:00 p.m.
Netflix Video "A.D. Kingdom and Empire" in the Gathering Space
Come out and watch a current Netflix series called "A.D. Kingdom and Empire" In the wake of Jesus Christ's crucifixion, his apostles dedicate themselves to spreading his message, risking their freedom and their lives.
 The first episode takes place before Jesus death so we will watch it during Holy Week, and then after Easter we will continue the series on Wednesday evenings through April. The 44 minute video will be followed by discussion.
Thursday March 29th, 5:30 p.m. – Maundy Thursday
We will join with Stittsville United for a Passover Seder meal with Communion and pot-luck supper held at Stittsville United. This will be a reminder of the Last Supper Jesus had with his followers. We plan to be finished in time for choir members to get to choir practice..
Good Friday – March 30, 9:30 a.m.
Community Procession of the Cross
Continuing our tradition we will join St. Thomas Anglican Church, with Stittsville United Church for a combined procession of the cross. The format will be similar to previous years, but the readings and the liturgy in the churches will be different. We will begin here at St. Andrew's at 9:30 for a brief liturgy in the sanctuary. We will then carry the cross down Stittsville Main St. to St. Thomas Anglican Church and then to Stittsville United Church. If you are not able to walk, please still join us and drive between the churches. There is plenty of parking at all of the churches.
Easter Sunday – April 1st  – 7:30 a.m. "Almost Sunrise Service"
We will gather on the church lawn around a fire (weather permitting) for a simple sunrise service with guitar and communion; remembering what it was like for Jesus' first disciples so many years ago. There will be no snow!
A light breakfast to follow inside the church.
10:00 a.m.  Easter Sunday Service
Easter Sunday Family Worship Service – Intergenerational service of praise, worship and communion. Featuring guest musicians.
*  *  *  *  *  *  *  *  *  *  *  *  *  *  *  *  *
Welcome to our nursery care giver.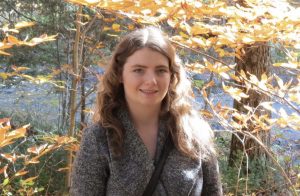 We are very pleased to announce an addition to our church staff! Brittany Allard has joined us as our Nursery coordinator and care giver. Brittany has a bachelors degree from Carleton University in child studies and is currently at University of Ottawa in teacher's college. Brittany is on duty every Sunday morning in the nursery ready and willing to care for any children who are not yet Sunday School age, or do not yet feel ready to attend Sunday School.
*  *  *  *  *  *  *  *  *  *  *  *  *  *  *  *  *